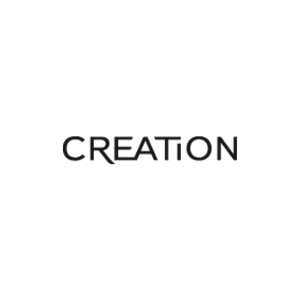 Situated high up the Hemel-en-Aarde Ridge near Hermanus, Creation's vines climb the steep hills of Babylon Toren Mountain to a lofty altitude of 350 metres above sea level. Here they bask in generous sunlight, flourish in 450-million-year-old clay loam soils with decomposed Bokkeveld shale and dance in the cool breezes blowing in from the nearby Atlantic Ocean. During the annual growth period, temperatures rarely exceed 30° C, while the cool night index throughout the year is 12° C lower than the day-time temperature.These factors result in full-flavoured grapes of outstanding quality, allowing for the creation of complex wines with length and depth.
Wines on offer:
Creation reserve
Creation Reserve Chardonnay

Creation Reserve Pinot Noir

Creation Sumac Grenache

Creation Reserve Syrah
Creation estate-
Creation Sauvignon Blanc
Creation Sauvignon Blanc, Semillon
Creation Cool-climate Chenin Blanc
Creation Viognier
Creation Chardonnay
Creation Rosé
Creation  Pinot Noir       
Creation Syrah, Grenache
Whale Pod-
Whale POD Sauvignon Blanc
Whale POD Syrah Merlot

Creation Reserve Chardonnay
Grown in a single vineyard, the Creation Reserve
Chardonnay has a presence all of its own and what
a presence! Vibrant aromas of fresh grapefruit and
fragrant apple mingle with a hint of honey and a sprinkling of cinnamon.
These are echoed on the oh-so-clean and pure palate where buttery nuances
are beautifully balanced by the characteristic Creation
minerality as a hallmark of freshness and finesse.palate beautifully. Serve with flavours of the Far East for a mouth-watering pairing.

Creation Reserve Pinot Noir
Gleaming garnet with an inviting bouquet of spice – peppercorn and clove – supplemented by a delicate whiff of dried apricot. Smooth yet complex on the palate: layers of dried fruit mingle with hints of raspberry and piquant spice. A lingering wine with supple tannins to ensure excellent maturation potential. Recommended with veal cordon bleu, smoked salmon tagliatelle or duck, mushroom and lentil salad.

Deep crimson with a secret glimmer of purple to capture the imagination. Intense aromas of cranberry, exotic spice and nuances of dark rose petal to fulfill the promise. A cooler climate Grenache with a feast of bright pomegranate, red currant, cracked
peppercorn and a seductive sprinkling of sumac lingering on the velvety palate.

Intensely dark in colour – almost black; the rim a halo in shades of fuchsia. A stirring introduction of piquant pepper and rich cassis is followed by muted notes of cinnamon and clove, underscored by echoes of fragrant rose petal. Sensual and sleek on the velvety palate where generous maraschino cherry and sun-dried peach harmonise with savoury black olive and lingering spice to offer a wine of great complexity. Sheer Syrah, proudly reflecting its provenance.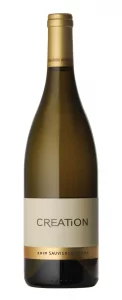 Pale straw yellow in colour with twinkling flashes of green. A superbly balanced wine beckoning with aromas of tropical fruit, elegant elderflower and interesting, minerally whiffs. These follow through on the full-bodied palate where crisp, well-integrated acidity adds to the allure and leads to a lingering, memorable aftertaste.

Creation Sauvignon Blanc, Semillon
The invigorating salty bouquet, reminiscent of the fresh sea breezes caressing the vineyards, is complemented by the fresh tropical fruit flavours from the Sauvignon Blanc and the lovely lanolin-like character from the Semillon. All in all a distinctive, terroir-expressive Bordeaux-style white.

Creation Cool-climate Chenin Blanc
The most delicate shade of wild primrose playing hide-and-seek with tinges of lime and rhubarb. A bouquet of gentle ginger, tender tomato leaf, apple skin and sweet melon casts the first spell. On the palate the magic unfolds with crispy quince and fresh green apple flirting with notes of tangy citrus. A cool-climate Chenin Blanc as remarkable in its purity as it is in its joyous complexity.

A promising pale gold, clear and shiny in the glass. Abundantly fruity and forthcoming yet refined on the nose with fragrant white peach aromas mingling with a rich, creamy character. These follow well onto the palate and combine seamlessly with crisp minerality and bouncy, well-integrated natural acidity.

Straw yellow with attractive glints of green. On the nose glorious layers of sun-kissed pear and peach are enhanced by fresh minerality and a hint of piquant vanilla. The full-bodied palate is in perfect harmony: generously fruity and subtly spicy, with well-judged acidity contributing excellent balance and a lively, lingering aftertaste. mouth-watering pairing.

A delicate petticoat-pink, translucent and tempting in the glass. Exquisitely perfumed with the come-hither bouquet of a Madame Meilland rose, blending with the freshness of sun-kissed berries. Profoundly chic yet playful on the palate: lush ripe raspberry laced with evocative hints of dried apple; racy white pepper flirting with the tiniest scoop of honey. All enlivened by the crisp acidity and savoury minerality characteristic of this cool-climate, maritime wine.

Deep ruby in colour, gleaming and inviting in the glass. The intensely fragrant bouquet shows a melange of red berry aromas, elegant vanilla and a whiff of wood spice. These follow through on the full-bodied palate where soft, supple tannins contribute to the dense structure. A superbly balanced wine with a lingering, memorable aftertaste.

Dark purple in colour, almost black, with flashes of deep crimson. Alluring aromas of ripe black olive beckon from the glass, elegantly complemented by whiffs of pepper. A well-endowed, full-bodied Rhone-style blend rewarding with intense flavours of ripe plum, black pepper and the smokiness characteristic of Syrah. Supple, ripe tannins and well-integrated, natural acidity contribute to the appeal.

Whale POD Sauvignon Blanc
From the spectacular playground of the whales in the heart of South Africa's celebrated Walker Bay Wine Appellation, comes a wine reflecting its proud maritime origins. Star bright in the glass with a subtle green hue. The compelling nose charms with a kaleidoscope of aromas: guava, passion fruit, and Cape gooseberry mingle with delicate whiffs of grapefruit and peach stone. These aromas are echoed on the palate where crisp acidity and a touch of salty minerality add to the complete finish.

From the spectacular playground of the whales in the heart of South Africa's celebrated Walker Bay Wine Appellation, comes a wine reflecting its proud maritime origins. Deep blue-black with vibrant tints of violet. A plush blend beckoning with waves of blackberry, whitft of blackcurrant and the distinctive stamp of good, tasted oak. Abundantly flavoursome and beautifully focused on the palate with the generous berry flavours supported by well integrated tannins.