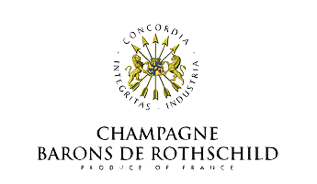 With 250 years of history, the Rothschild family uses its arrows crest to produce the Champagne Barons de Rothschild. When the most famous appellations encounter one of the most prestigious wine signatures, the result is intended as rare and exceptional.
The cuvées of Champagne Barons de Rothschild are elegant wines, signed by the finesse of the Chardonnay, a grape variety emblematic of the House's refined and bold style. The exceptional maturity of our wines, as well as the blending of the best crus in the heart of the Côte des Blancs and Montagne de Reims, give their inimitable taste.
Driven for over two centuries by the understanding that in unity there is strength and by passion for business, the family embodies the meaning of quality and lifestyle. Today the Rothschild family is pleased to share its values of excellence, taste and conviviality, expressed with sparkle and savour in Barons de Rothschild Champagne.
Champagne Barons de Rothschild Brut
Champagne Barons de Rothschild Brut Rose
Champagne Barons de Rothschild Blanc de Blancs

Champagne Barons de Rothschild Brut
The Rothschild family's signature is clearly expressed in this rich, complex and utterly etherial Champagne. A commitment to perfection and the spirit of purity has led to this Brut Champagne's well-rounded but powerful cuvée. By blending wines that have been aged no less than 3 years, Chardonnay and Pinot Noir meet to create a unique, golden-hued wine with subtleties that pay homage to the Rothschild's attention to detail.

Champagne Barons de Rothschild Brut Rosé
Barons de Rothschild Champagne Rosé results from experienced and refined blending of 85% Chardonnay, primarily from the Côte des Blancs crus, and 15% Pinot Noir from the Montagne de Reims. A small percentage of this is vinified as red wine, giving this exceptional rosé a fine and vivacious, yet harmoniously complex purity. Pale pink reflections compliment the harmony of fruits in this light Champagne that even the most experienced of palates will appreciate.

Champagne Barons de Rothshchild Blanc de Blancs
Barons de Rothschild's Blanc de Blancs shows all the finesse of a blend of Champagne's greatest Chardonnays. After at least 3 years of cellar aging, Blanc de Blancs is a distinctly refined, radiant and silky Champagne. This delicate, yet complex cuvée exudes elegance with a golden-yellow colour that produces a fine, soft foam and a continuous thread of gentle bubbles.