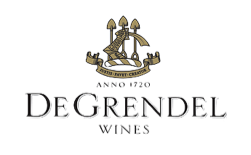 Winemaking at De Grendel is a careful balance between science and art. The meticulous care of the vineyards allows the grapes to express the environment in which they are grown and their distinctive varietal character. Careful harvesting and gentle handling in the cellar, combined with the winemaker's passionate practice of their craft, carry the wines throughout the journey from fruit into wine.  The state of the art winery is respectful of the age-old traditions of winemaking yet firmly and uncompromisingly modern in technological advancements, a perfect marriage of old and new.
Wines on offer:
De Grendel Brut
De Grendel Sauvignon Blanc 
De Grendel Koetshuis Sauvignon Blanc 
De Grendel Chardonnay 
De Grendel Rose 
De Grendel Merlot 
De Grendel Shiraz 
De Grendel Pinot Noir 
Proposal Hill Cap Classique Brut Rosé
Amandelboord Pinotage

Pale lemon colour with exceptionally fine mousse. It exudes freshness and pure fruit on the nose by showcasing vibrant notes of Granny Smith apple, white blossom, candied lemon rind and white peach. Creamy, biscuit notes give texture to the lively citrus and green apple. An elegant and refined MCC with a yeasty undercurrent on the palate.

De Grendel Sauvignon Blanc
The wine has a delicate, pale straw colour with a slight green edge. It displays an aromatic kaleidoscope, rich with perfumed lime, white pear, passion fruit and lemon thyme. The aromas prevail on the palate with added Granny Smith apples, lemongrass and nettle. The palate is perfectly balanced by a steely mineral zest and enjoyable long finish.

De Grendel Koetshuis Sauvignon Blanc
This wine is stylistically different than our De Grendel Sauvignon Blanc in the sense that the wine leans more towards a fuller and richer style, with intense hints of minerality, gooseberries and asparagus on the nose and palate.

The slow ripening fruit produces wines of consistently distinctive character and expressive style. Crisp Granny Smith apple and ripe citrus aromas of Ruby grapefruit are permeated with soft layers of crème caramel and sweet orange marmalade. The flavours are lively, and the finish refined and rich with a long tail due to oaking and extended lees contact.

The De Grendel Rosé was produced from 50% Pinotage, renowned for producing fine fruit-driven Rosé, and 50% Cabernet Sauvignon, providing structure and acidity. It is pale rose gold in colour, with a pro-nounced bouquet of watermelon, raspberry coulis and passion fruit.

If classic elegance is more your thing, look no further. It first reveals a delicate allsorts of berries – red, black and blue – followed by the alluring aroma of aniseed and liquorice which are all carried through on the palate.

This Shiraz shows coriander, lavender, white pepper and some floral notes on the nose. This full structured wine is well supported by oak undertones and sweet ripe tannins. On the palate the wine lingers with a beautiful clove flavour.

Light ruby red with a pale brown rim. Cranberry, sour cherry, mushroom, wet leaves and wet soil aromas abound. The medium-bodied palate delivers flavours of liquorice, perfume, spice and earthy porcini mushrooms.

Most loved for its perfumed aromas, the De Grendel Viognier ranges from tangerine, mango, ripe peach and honeysuckle on the nose to creamier flavours of vanilla with spices of nutmeg and clove due to oak ageing.

The Rubaiyat is a classic poetic Bordeaux-styled blend consisting of a 'quatrain' of Cabernet Sauvignon, Petit Verdot, Merlot, and Cabernet Franc. The name is inspired by Omar Khayyam's exquisite collection of 1000 Persian love poems from the 10th century, held dear by the late Sir David Graaff. Each successive vintage features a different quatrain from the poem on the label, hence the blend of four varietals for De Grendel's flagship wine.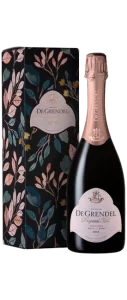 De Grendel Proposal Hill Cap Classique Brut Rosé
The De Grendel Brut Rosé has all the trademarks of a conventional and meticulously constructed bubby, with the added allure of being playful and exciting. This complex wine offers layer upon layer of flavour and a weightier palate than the average sparkling wine. A fine and persistent long-lasting mousse precedes hints of oyster shell and fresh lavender on the nose, followed by an exceptionally long aftertaste. The intensity of strawberry coulis and black cherry flavours are well-balanced by firm acidity.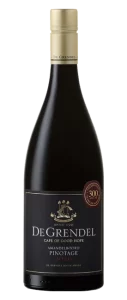 De Grendel Amandelboord Pinotage
The Amandelboord Pinotage presents a beautiful intense, deep purple colour with a magenta meniscus. Maraschino cherries, black plums, prunes and banana-flavoured Wilson toffee aromas are depicted on the nose, followed by medium acidity and medium alcohol. The palate presents young tannins that will soften with age and aeration. A slight toastiness is detected on the mid-palate followed by sweet, stewed prunes.