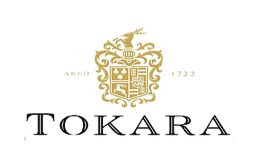 The estate devotes significant capital into ensuring the most cutting edge technologies are available for vineyard analysis and wine production. TOKARA is the first cellar to make commercial use of the NDVI process, which captures both visible and infrared light emitted from vineyards to create a colour index describing variances between cultivated sections. Apart from technology, superior wines require superior raw materials. TOKARA has a highly skilled and tirelessly dedicated labour force, working on some of the most exceptional terroirs in the country. The soil types at TOKARA belong to the Oakleaf and Tukulu families and are classified as high potential, inducing relatively high vigour.
All viticulture procedures at TOKARA strive to create a balance between the vegetative and reproductive qualities of the vine, which is beneficial to both the environment and the quality of the estate's final product. Three prime farming locations, each situated in some of the Western Cape's best cool-climate viticulture districts, supply the TOKARA winery. All of the TOKARA vineyards incorporate the same cutting-edge farming technologies, embracing the practices of precision viticulture. Together, they produce an impressive range of grapes for one of the most exciting new properties in the country.
Wines on offer:
Tokara Sauvignon Blanc 
Tokara Chardonnay
Tokara Elgin Sauvignon Blanc 
Tokara Stellenbosch Chardonnay
Tokara Shiraz
Tokara Cabernet Sauvignon 
Tokara Red 

This wine is a blend of Sauvignon blanc grapes that originate from the Stellenbosch and Elgin regions.

Expressive citrus and floral aromas with underlying notes of brioche, vanilla and a hint of toasted almonds leads to generous pineapple, grapefruit and lemon zest flavours on entry with a broad and creamy mid-palate that freshens to a pristine dry citrus finish.

Tokara Elgin Sauvignon Blanc
The aromas are fresh and opulent. Packed with notes of guava, passion fruit, quince and hints of lemon grass and dried herbs. The flavours on the palate is reminiscent of the aromas, it is full, rich and textured with a lingering dry chalky finish.

Tokara Stellenbosch Chardonnay
This wine display's a vibrant golden colour. Aromas of fresh grapefruit, grilled pineapple, star anise and toasted brioche emanate from the glass. The wine enters the palate with fresh citrus flavours leading to a creamy mid-palate with flavours of vanilla, star anise and toasted almond. There is a continuous saline focus and feeling of freshness throughout the tasting experience of this wine. The finish lingers with notes of toasted nuts.

Deep ruby in colour with perfumed hints of violets, Chinese 5 spice, blueberries and mulberries as well as red berry fruits. The palate is packed with a gorgeous concentration of berries with a juicy mid-palate with a stunning finish of white pepper spice and chalky dry tannins.

Tokara Cabernet Sauvignon 
Dark and brooding with heady aromas of dark fruits, cocoa and cedar that follow through with intense dark berry fruits with a hint of savoury intrigue supported by ripe tannins and well tethered oak spice finishing with sumptuous concentration and length

A Bordeaux-styled blend of Cabernet Sauvignon, Merlot and Petit Verdot with an intense deep garnet colour, stunning clarity and classic heady notes of cassis, blackberries and dark cherries punctuated by a slight herbal lift and freshness, hints of tomato puree and tomato leaf and a typical etching of mint which is indicative of its origin that lingers on the finish.