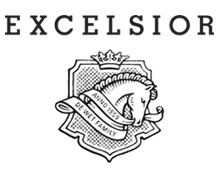 The De Wet family have farmed at Excelsior Estate, in the Robertson wine valley, since 1859 when Koos de Wet settled there and began clearing the veld of the Little Karoo.
Wine has always been made on the estate, alongside ostrich and horse breeding. It is now the most important crop on the farm and Excelsior exports wine to over 20 countries. The farm has 220ha planted with noble cultivars; Sauvignon Blanc, Chardonnay, Shiraz, Merlot and Cabernet Sauvignon. There are also small plantings of blending cultivars such as Petit Verdot and Viognier. The aim is to produce full-bodied wines that display intense fruit. We achieve this by using strict vineyard practices to ensure a healthy, well-ripened crop.  When they are ready, the grapes are picked by hand which allows for greater quality control.
Wines on offer:
Excelsior Chardonnay 
Excelsior Sauvignon Blanc 
Excelsior Cabernet Sauvignon 
Excelsior Merlot 

The nose shows hints of peach, lemons and orange blossom backed up by a touch of oak. The palate is fresh and creamy with great length from the acidty.

Excelsior Sauvignon Blanc
Grapes are harvested by hand for greater quality control. The grapes were immediately destemmed and cooled. Skin contact was maintained for 6 hours, and then the grapes were carefully pressed in order to avoid bitter phenols. The wine was then cold fermented for 15 days at temperatures between 12 and 15⁰ Celsius. Lees contact was maintained for 3 months in order to give greater fullness to the final wine. The various components were blended after ageing

Excelsior Cabernet Sauvignon
The most planted variety at Excelsior. Vines vary in age from 5 – 20 years. Water stress is used to produce tiny, concentrated berries.

Merlot has a tendency towards green flavours and tannins, so canopy management practices like shoot removal and green harvesting are used to produced and evenly ripened crop.