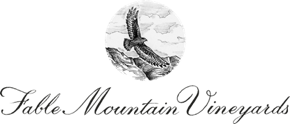 Our renovated gravity fed cellar combines the best of the old and new world: the latest equipment and knowledge with traditional techniques.
Central to the winery design is the ability to process many small parcels of fruit. We selectively harvest only small sections of the vineyard. They are all handled separately and differently from fermentation to barrel. This ensures a full array of components and options come blending.
Our gravity fed cellar allows us to keep pumping to a minimum. It is very hands on, with bunch and berry sorting, only hand plunge downs, and we carry out long macerations for up to four to six weeks before pressing.
Wines on offer:
Fable Mountain Jackal Bird 2012
Fable Mountain Night Sky 2012
Fable Mountain Syrah 2012