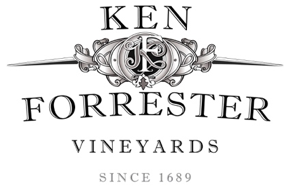 Situated on the slopes of the Helderberg Mountain, in the heart of South Africa's most famous wine region Stellenbosch, our vineyards are commonly referred to as the Home of Chenin Blanc and other premium award-winning wines. Over the years our range of top quality wines has received massive national and international acclaim with literally hundreds of awards and accolades over the last 22 years and are broadly available in reputable restaurants and exported around the globe. Ken Forrester's philosophy has always been to create a range of handcrafted, individually made wines that suitably complement a wide variety of food styles and provide excellent value.
Wines on offer:
Ken Forrester Petit Rose 
Ken Forrester Petit Chenin 
Ken Forrester Petit Sauvignon Blanc 
Ken Forrester Petit Cabernet Sauvignon 
Ken Forrester Petit Pinotage 
Ken Forrester Petit Chardonnay
Ken Forrester Sauvignon Blanc 
Ken Forrester Chenin Blanc  
Ken Forrester Merlot 
Ken Forrester Shiraz/Grenache 
Ken Forrester Gypsy 
Ken Forrester NLH
Ken Forrester Sparklehorse Chenin Blanc

Ken Forrester Meinert FMC Chenin

This very elegant bright salmon pink Rosé overwhelms the nose with aromas of freshly picked strawberries, Rose petal and cherry flavours. It follows through on the palate with delicious ripe raspberries with a delicate finish.

Ken Forrester Petit Chenin
Perfect everyday drinking wine. A youthful fresh wine with quince and pear drop flavours. Earlier picked freshness shows on palate with crunchy green apple and grapefruit flavours. Good mouthfeel and appetisingly tangy finish.

Ken Forrester Petit Sauvignon Blanc
White pear, tropical fruits, vanilla and roasted almonds on the bouquet, marries flawlessly to a rich, melded palate.The subtle, integrated oak aromas contribute to a long, creamy finish, underpinned by a rapier-like fresh acidity.

Ken Forrester Petit Cabernet Sauvignon
A youthful wine showing fresh ripe mulberries and plums with a spicy undertone. A soft, rich and fruit-driven wine.

Ken Forrester Petit Pinotage 
This cheerfully Petit Pinotage reflects the modern fruit driven wine style that is in huge demand today. Classic Pinotage aromas of spicy mulberries, plum pudding and cherries, supported by smoky bacon nuances. Juicy and accessible with soft palate and delicious fruit concentration.

Ken Forrester Sauvignon Blanc
This wine shows lovely complexity with mix of tangy grassy notes, fig leaf, peach and nectarine nuances. Brisk acidity with minerality on the palate which is typical of the long hang time in our cool region.

Ken Forrester Chenin Blanc
Golden hued and full bodied, with melon and spicy baked apple aromas. Layered, with mineral notes enhanced by honeycomb and caramel flavours from lees contact. This wine is a great example of the harmonious balance which can be achieved between fruit and delicate oak/vanilla flavours, as they combine to form complex, soft flavours with sufficient body to enhance even spicy and full flavoured meals.

Ken Forrester Petit Chardonnay
Aromatic layers of white peach and tropical fruit beautifully infused with kiwi. Creamy texture on the palate, complemented by a steely minerality. The crisp acidity ensures a long-lasting zesty lime and floral finish.

A very concentrated, focussed blend with layers of deep fruit. The character is expectedly somewhat "wild" a little brambly with hints of nutmeg, cinnamon, dark spices, with vanilla scents and a distinct, concentrated red-fruit focus.

This is a golden wine with fresh, sumptuous peach, dried apricot flavours, overlaid with a tropical lushness of melon and pineapple. Ripe sweetness, yet tangy, with sweet and sour zip flavours like baked apples with clove spice, wood spice and honey on the finish.

Hand harvested in individual parcels and selected for quality to get the ripest possible, balanced Merlot from our very finest soils, influenced by the cool S/E wind during the ripening season.

Ken Forrester Sparklehorse Chenin Blanc
Since deriving from the workhorse variety Chenin Blanc, Ken wanted to have some fun with the packaging and name the wine "Sparklehorse", which has instant appeal. The packaging captures the spirit and fun of the fair and the horse is truly the embodiment of enjoyment and all that sparkling wine represents.

Ken Forrester Meinert FMC Chenin
The pinnacle of what we consider to be the finest expression of the grapes of this varietal – an icon chenin, a challenge to the world! Rich, layered with dried apricot, vanilla and honey.