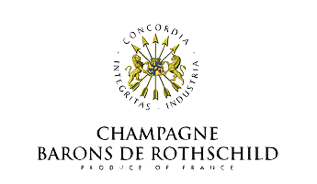 With 250 years of history, the Rothschild family uses its arrows crest to produce the Champagne Barons de Rothschild. When the most famous appellations encounter one of the most prestigious wine signatures, the result is intended as rare and exceptional.
The cuvées of Champagne Barons de Rothschild are elegant wines, signed by the finesse of the Chardonnay, a grape variety emblematic of the House's refined and bold style. The exceptional maturity of our wines, as well as the blending of the best crus in the heart of the Côte des Blancs and Montagne de Reims, give their inimitable taste.
Driven for over two centuries by the understanding that in unity there is strength and by passion for business, the family embodies the meaning of quality and lifestyle. Today the Rothschild family is pleased to share its values of excellence, taste and conviviality, expressed with sparkle and savour in Barons de Rothschild Champagne.