Set in the heart of the mountain-ringed Robertson Valley in the Western Cape of South Africa, Springfield Estate is a family-run wine farm owned by ninth-generation descendants of French Huguenots, who came to South Africa from the Loire in 1688 with bundles of vines under their arms. The present generation to tend the rocky Springfield soils, brother-and-sister team Abrie and Jeanette Bruwer, are the fourth generation to do so, and are prepared to take risks to do what they love best – making wine. Assisted by a team of dedicated workers, many of whom have been with the Bruwers for decades, winemaker and viticulturist Abrie keeps a watchful eye on the vineyards and the wines, while sister Jeanette co-ordinates the marketing of the wines both locally and abroad. Back on the estate, she's hands on, involved in everything from preparing the soil for new plantings to driving the forklift. Using a combination of sometimes risky winemaking techniques, traditional methods and modern technology, along with a sense of practicality and dogged determination borne from living off the land all their lives, the Bruwer family is able to handcraft wine true to its motto: Made on Honour.
Wines on offer:
Springfield Life from Stone Sauvignon Blanc
Springfield Special Cuvee Sauvignon Blanc 
Springfield Miss Lucy 
Springfield Methode Ancienne Chardonnay 
Springfield Whole Berry Cabernet Sauvignon 
Springfield The Work of Time 
Springfield Methode Ancienne Cabernet Sauvignon
Springfield Albarino
Springfield Wild Yeast Chard
Springfield Thunderchild
Springfield Pinot Noir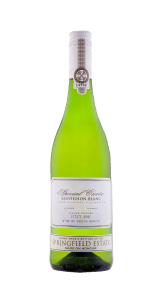 Springfield Life from Stone Sauvignon Blanc
Life from Stone derives its name from the incredibly rocky soils in which it is grown. Every year the vineyard battles against nature in order to produce highly concentrated, powerful wines with a flinty, mineral character true to the quartz rock in which it is grown. Monumental human effort was required to plant the vines – implements destroyed, and, in the case of the older vineyards, dynamite deployed. A true expression of the site's terroir, this wine will drink well now, or can be enjoyed in the next 2-3 years.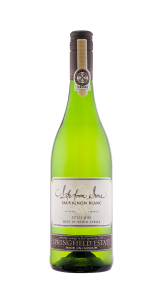 Springfield Special Cuvee Sauvignon Blanc 
Originating from 35-year-old vines rooted in sandy alluvial soil in the estates riverine area, this cuvée, or blend, is achieved by two pickings – one earlier in the harvest and another slightly later. Grown in the estate's prime site for Sauvignon, this results in a complex wine, with a sensuous combination of passion fruit, nettles and minerality. Will mature beautifully for 2-4 years.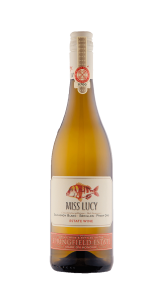 Miss Lucy is one of the seven nicknames given to the Red Stumpnose by the fisherman of the Southern Cape. Like many other marine species, the Miss Lucy has been over-exploited and is now critically endangered. Created as an ode to the bounty of the sea, Miss Lucy can turn the many other delights safe to grace our tables, into a celebration of the ocean. Only a salty breeze and a sunny day can improve what is already a perfect match. This unique blend of Sauvignon Blanc, Semillon and Pinot Gris bursts with citrus pamplemousse flavours and an ample mouth feel, yet remarkably moderate in alcohol.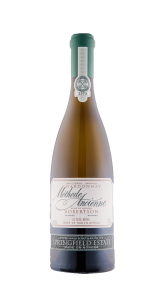 Springfield Methode Ancienne Chardonnay 
Springfield Estate Méthode Ancienne Chardonnay 2017 is in the ancient style of Burgundy, rarely is this technique with wild yeast and no fining/filtration used in the new world. Thus, a wine of distinctive and classical character, it will develop slowly and is made to last (we hope) a lifetime. Nuances of lime, cointreau and oranges – a big wine with classical character!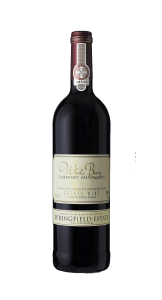 Springfield Whole Berry Cabernet Sauvignon
In order to achieve a luscious, juicy wine, we try to have as little intervention in the cellar as possible. Simply de-stemmed, the whole, uncrushed bunches are transported using only a gravity flow system. Whole berry maceration is followed by fermentation with natural yeasts, racking and one year's maturation in oak barrels. The result is a velvety wine with softer tannins and classical varietal characteristics. This traditional wine is unfiltered and unfined, which may deposit sediment and might require decanting.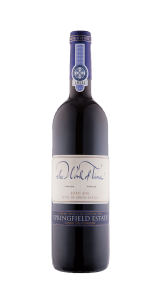 Springfield The Work of Time 
Time – The lost element in today's winemaking, can be so precious – yet it is free. It was our desire to produce a Bordeaux Blend and so we planted the classic varieties of Cabernet Sauvignon, Cabernet Franc, Merlot and Petit Verdot. These vines were planted on carefully selected sites and took 9 years to reach a level of maturity which we felt comfortable to use for the maiden vintage (2001). The grapes were fermented whole with native yeasts (true to our ancient custom) and left for 5 weeks on their skins. A slow 2 years of barrel maturation followed and a further 4 years of bottle maturation. Finally, we released this wine rich, classic and complex from age – of vines and wine. This long wait, justified only by our passion, does bear fruit. It's called-"The Work of Time".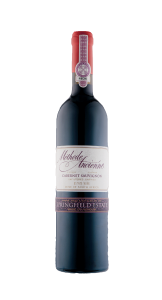 Springfield Methode Ancienne Cabernet Sauvignon 
Over 20 years ago, our red wine was made with commercial yeast, and crushed grapes. In 1997, on our path towards how the way we make our red wines today, we made what is now known as Méthode Ancienne Cabernet Sauvignon using, for the first time, native yeast , yet still crushed the berries before fermentation.
This wine, with the additional extraction from the crushed berries, took much longer to mature and for the hard edges to soften. Even after two years in new French oak, and four years of further bottle maturation, it was still too closed and the tannin structure too tight to be released.
Wine is made using trial and error, so from the 1998 vintage onwards we fermented the Méthode Ancienne Cabernet using native yeast and whole berry maceration (uncrushed), creating softer tannins and wines that would reach maturity sooner than those made with crushed grapes.
Finally, the 1997 vintage of the Méthode Ancienne Cabernet Sauvignon, almost forgotten in the back of our cellar, has been deemed ready to be shared with the world.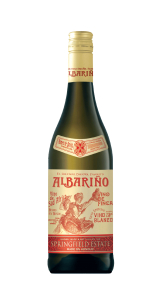 We first discovered Albariño many years ago on our travels. Though many bottles of wine were drunk, it was the memory of the Albariño that stayed with us long after we returned home. Over several years, the single bundle of vines we received from a fellow producer was slowly multiplied until a full vineyard was planted, and the crop it bore did not disappoint the memory of that magical wine we tasted so long ago…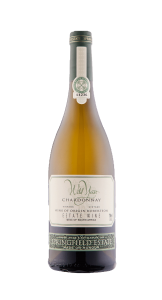 Springfield Wild Yeast Chard
True to its moniker, the Wild Yeast Chardonnay is fermented using the native, wild yeasts that occur naturally on the skins of the grapes. Unwooded, it is fermented in underground cement tanks in a slow, volatile process that can take anywhere between 6 – 9 months. This method, although risky, results in incredibly expressive wine with a wisdom that is unattainable in wines made using commercial yeasts. Can be enjoyed for the next 3- 4 years.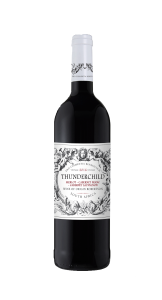 Thunderchild
In 1918 in the wake of the Great Flu Epidemic an orphanage, Die Herberg, was built by the Robertson community for the children left orphaned and destitute.
In 2003 a 5hectare vineyard was planted on the orphanage's grounds by the same community. All planting material, soil preparation and irrigation were donated. This blend is made for free by sympathetic cellars and sold in aid of the children, who today are no longer all orphans but mainly from broken homes. 100% of the grapes for this blend is grown on the orphanage's grounds and 100% of the profit is donated to the children. Only true audited costs are remunerated, time and effort cannot be recompensed.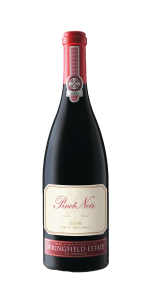 Our Pinot Noir was planted in 1997 on a rock infested outcrop, too steep for tractors or other implements, so all the tending needs to be done by hand. The extreme density of 9000 vines per hectare and the scarcity of soil between the abundant rocks results in a vineyard yielding only a few bunches per year.