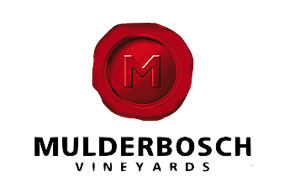 Since the first vintage in 1994, Mulderbosch has endeavored to represent innovation, flair and excellence. This basic winemaking ethos prevails to this day, and whilst the range of wines we produce has increased, we are more committed than ever before to create wines that proudly display the Mulderbosch seal of approval, yet continue to push the frontiers of winemaking and viticulture in order to satisfy our loyal supporters around the globe.
Wines on offer:
Mulderbosch Rose 
Mulderbosch Chenin Blanc 
Mulderbosch Sauvignon Blanc
Mulderbosch Chardonnay 
Mulderbosch Faithful Hound 
Mulderbosch Faithful Hound (1.5l)
Mulderbosch Sauvignon Blanc NLH

Mulderbosch cap classique brut

Mulderbosch Sparkling Rose

First released in 1999, Mulderbosch Rosé was one of the very first of its kind from South Africa. At a time when most Rosés where a by-product of red wine fermentation, Mulderbosch launched a varietal Cabernet Sauvignon Rosé issuing from specially farmed vineyards specifically to produce Rosé fruit. On arrival at the cellar, these early picked, specially selected grapes were vinified with the aim of producing a fresh, aromatic style of Rosé
The wine is bright in appearance, with aromas of citrus rind and ripe apricots, and lovely subtle oak spice. The palate has lively acidity, balanced by a firm, pithy texture central to Chenin Blanc's character. There are unmistakable citrus notes, offset by creamy lees making this a deliciously moreish wine.

Mulderbosch Sauvignon Blanc
Aromatically the nose is intense, with wonderful grapefruit, lime and blackcurrant notes. The palate bursts with zesty acidity on the entry, releasing waves of vibrant Sauvignon Blanc flavours. Superbly invigorating, it softens to a delicious creamy finish with some weight and length; testimony to its maturation on lees.

This wine is serious, it has the backing of very well-judged oak, but relies on the girth that comes naturally from a well-made Chardonnay.

Mulderbosch Faithful Hound
A pronounced cassis aroma characterizes the first nose, but this is followed by dried figs, dates and hints of clove. This initial wave of fruit yields to a subtle forest-floor quality that hints at a classically styled wine. The palate entry is soft and displays a fine chalky texture. Fruit aromas apparent on the nose follow onto the palate as fleshy ripe flavours but find balance with an earthy, savoury character, maintaining the wine's poise. A classic blend of noble red varieties, the wine displays both serious structure and delightful fruit making it approachable in its youth, but undoubtedly worthy of cellaring, where it will gain further dimension with age.

Mulderbosch Sauvignon Blanc NLH
Powerfully aromatic, displaying cinnamon, stewed apples and wafts of oven-crisppie crust. The palate is wonderfully intense with toffee apple flavours, quince paste and botrytis spice all accentuated by a lifted, pithy citrus aromatic which leads onto the bright and persistent finish.

Mulderbosch cap classique brut
Appearance: Pale, lemony golden colour. Light in hue, bright and fresh. Nose: Combined notes of custard patisserie, brioche and delicate summer blossoms. The nose is delicate, yet intriguing. The maturation character elevates the nose in a subtle way, lending opulence but not in an overly rich fashion. Palate: The palate has a well-integrated bead, and delicate mousse. It is dry, yet beautifully balanced. Savoury, nutty character from the extended maturation are prominent, however there is a definite surge of fresh red fruit on the palate.

Mulderbosch Sparkling Rose
With its delicate pink colour and perfect balance of fruit flavour and fresh acidity, the Mulderbosch Sparkling Rosé combines sophistication and sense of occasion with each sip. The nose is a delightful bouquet of summer blossoms, freshly cut strawberries and hints of stone fruit. The sparkling palate amplifies these delicate aromas and accentuates the great balance of vibrant acidity and succulent fruit flavours to provide a lengthy, delicious sparkling wine.