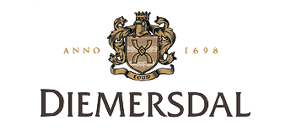 Diemersdal is the home of Thys Louw, seventh generation owner and winemaker of this historic family wine estate in Durbanville in the Western Cape of South Africa. Diemersdal blends the old and new worlds of winemaking. In pursuit of the award-winning red wines that give expression to the rich diversity of the terroir, they use traditional open fermenters to enhance the natural flavours and soften the tannins in our grapes. They take great care in choosing the barrels for each cultivar. For the white wines, they have a brand new state-of-the art winery where they adopt an approach of minimum intervention to conserve prominent varietal character. To continually produce unique wines, the winemakers pay meticulous attention to detail and spend time experimenting with new techniques, barrels and yeasts.
Wines on offer:
Diemersdal Matys Sauvignon Blanc 2016
Diemersdal Sauvignon Blanc 2016
Diemersdal Chardonnay 2016
Diemersdal 8 Rows Sauvignon Blanc 2015
Diemersdal Sauvignon Blanc Rose 2016
Diemersdal Matys 2016
Diemersdal Pinotage 2015
Diemersdal Merlot 2015
Diemersdal Shiraz 2015
Diemersdal Private Collection 2014

Diemersdal Matys Sauvignon Blanc
A life-long obsession with the Sauvignon Blanc grape let to Thys Louw of Diemersdal finding a vineyard in New Zealand through which to express his commitment to this variety. Offering a taste of this extraordinary wine country under the Diemersdal label. The Diemersdal Marlborough Sauvignon Blanc was made in conjunction with Ben Glover of Glover Family Vineyards.

Diemersdal Sauvignon Blanc
This vibrant, classically styled Sauvignon Blanc presents a brilliant lemon-lime colour. The distinctive aromas support a wonderfully balanced palate, presenting purity of ripe fruit, coupled with a lingering harmonious finish.

This fashionable wine balance concentrated spicy aromas with fresh fruit flavours. The nose is elegant, with the richness of the fruit enhanced by apple and sweet melon aromas.

Diemersdal 8 Rows Sauvignon Blanc
This legendary wine is the first made by Thys Louw after joining father Tienie at Diemersdal. The fledgling young winemaker was only given access to eight rows of vines within a premium Sauvignon Blanc vineyard. Quality of fruit and the talent of the winemaker lead to a captivating wine that has today become the stuff of legend, still made from those first eight rows.

Diemersdal Sauvignon Blanc Rose
Delicate, fruity and lively, with distinctive Sauvignon Blanc aromas of passion fruit and lime, with hints of the cherry and strawberry flavours. A balanced palate with crisp acidity and fruity undertones

The six generations of Matthys Michael Louws who resided on Diemersdal share the communal value of hospitality that has been passed on to each generation. The Matys is an accessible, friendly and easily approachable red wine made for everyday enjoyment honouring the hospitality shared by six generations of this pioneering wine family.

This wine shows a complex nose of red fruits, vanilla, exotic spices, and rich dark chocolate aromas. The palate is full flavoured and smoothly textured with oriental spice, chocolate and roasted banana flavours.

The nose seduces with beautiful ripe blackberry and dried fruit aromas along with spicy undertones. This wine is well structured with elegance and mouth filling fruit flavours. Hints of cedar wood, mint and spice flavours follow through on the palate.

The wine has a complex nose with overtones of black and white pepper, pomegranate, cigar box, cloves and spice. On the palate there is vibrant red fruit, blackcurrant and dark chocolate flavours, under-pinned by well integrated oak with a long spicy finish. This wine shows a good structure and will develop for years to come.

Diemersdal Private Collection
A blend of Cabernet Sauvignon, Merlot, Petit Verdot, Malbec and Cabernet Franc with deep, dark chocolate, enticing cedar and wafting notes of blackberry jam, cherry and cassis. The firm, well-structured palate features robust tannins and a broad range of fruit flavours carried by the richness of oak and vanilla notes.

Granger Bay Sauvignon Blanc
Crisp and zesty with a refreshing citrus flavour, this wine can be enjoyed on every occasion and is delicious when served chilled with a roast chicken and corn salad, calamari or fried chicken strips.

Granger Bay Cabernet Merlot
Looking across from Granger Bay in Cape Town you can see the slopes of Diemersdal, the home of Thys Louw, the 7th Generation Owner and Winemaker of this historic family wine estate in Durbanville in the Western Cape of South Africa.