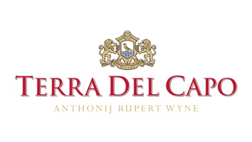 Sangiovese can thrive in a variety of soils but its best results are achieved in friable, shaley clay. The clay soils and decomposed ancient sea bed make Rooderust (situated in the Groenekloof area, close to Darling) ideal for Sangiovese. The area experiences long, dry summers, but with cool Atlantic Ocean breezes.
Appealing ripe red and black cherry aromas. Beautiful spiced entry to the palate, packed with the same ripe cherry succulence. Ample fruitcake flavour, but well balanced by oak which provides defined structure and texture. Softly sensual and elegant with a long, lingering tail.
What was once the vision and dream of the late Anthonij Rupert has now become a reality in the form of the Terra del Capo range. His love of Italy, its wine and food, informed the South African expression of these wines.